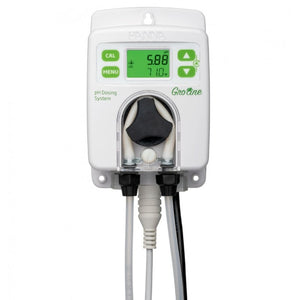 GroLine
Item Number:
HI981412-00
FREE Shipping for orders over $200. *See Shipping Policy for details.

Brand:
---
Description

Returns/Exchanges

Shipping

Price Match
pH Dosing System is part of Hanna Instruments Groline family and features a pH controller with a peristaltic dosing pump and a process sensor.
HI-981412-00 GroLine pH dosing system with HI-10063 pH probe
Maintaining the correct pH of plant soil or hydroponic nutrient solution is an ongoing task. Macro and micro nutrients, as well as calcium and magnesium bloom boosters, require the correct pH for absorption into the plants root system.
The HI-981412 Groline pH Dosing System, easily assimilates into a nutrient/fertiliser system for soil and hydroponics.
It precisely monitors the pH using the HI-10063 pH/temperature probe and simultaneously controls the addition of acid or base (Up and Down reagents) using On/Off or proportional control to fine tune and maintain the optimum pH.
Growers can define the ideal set point for pH. The HI-981412 is a small dosing controller and can be easily setup for a stand-alone nutrient reservoir or be part of a modular control scheme with the HI-981413 Groline Nutrient Dosing controller.
To obtain a representative sample pH, the probe should be located at a spot that experiences good circulation. The probe can be used in a "sample pot" or reservoir or installed in a flow cell or re-circulation line. Perfect for drain-to-waste or recirculating systems.
Each instrument is delivered in a cardboard box and supplied with:
HI-981412-00 without mounting kit
HI-10063 pH/temperature probe
4.01 pH Buffer solution, 20 mL (3)
7.01 pH Buffer solution, 20 mL (3)
Power connection cable
Instrument & electrode quality certificates
Instruction manual
Main Benefits
Reduced installation time and costs
Accessible and easy to maintain pH in a nutrient feeding system
The HI-981412 Groline pH Dosing System is engineered to be an inexpensive solution for the horticulturist to have real-time monitoring and control of nutrient solutions to obtain and maintain the ideal pH for optimum results at all times.
Main Features
Built-in peristaltic pump with On/Off or Proportional control
Manual control for pump priming
Overfeed protection using overtime safety timer
Resumes dosing on restart in case of power failure
Easy to read LCD display with intuitive, color-coded backlight
Level input to stop control without reagents
Probe detection and recognition
Easy to navigate menu to program and adjust settings
Wall-mounted design
IP65-rated casing
About the HI-10063 Amplified pH/Temperature Probe
The HI-981412 uses the HI-10063 amplified probe that incorporates both pH and temperature sensors and connects to the controller with a single waterproof Quick Connect DIN connector.
The built in amplifier helps to reduce electrical noise from re-circulation pumps to provide for a stable, reliable measurement. The pH glass used is ideal for low conductivity water and provides for fast response.
The PVDF body of the probe has a 1/2" threaded fitting for insertion to an in-line "T" fitting or the flow cell. The back end part of the probe has 3/4" NPT threads for submersion/ tank mounting. The probe body has a hex fitting for tightening snuggly with a wrench.
Range
0.00 to 14.00 pH*, -5.0 to 105.0 °C (23.0 to 221.0 °F)
* The range may be limited by the probe's limits.
Resolution
0.01 pH; 0.1 °C (0.1 ºF)
Accuracy @ 25 °C / 77 °F
±0.10 pH; ±0.5 ºC (±0.9 ºF)
Calibration
User calibration: automatic, one or two-point with buffer solution (4.01, 7.01, 10.01 pH)
Process calibration: single point, adjustable (±0.50 pH around measured pH)
Temperature Compensation
Automatic
High or Low Mode Operation Pump Control

On/Off control using adjustable set point (4.00 - 10.00 pH) with adjustable hysteresis (0.10 to 1.00 pH)




Proportional control using adjustable set point (4.00 - 10.00 pH) with adjustable proportional band (0.10 to 2.00 pH)




Startup delay timer at power-on (0 to 600 sec.)




Pump flow control 0.5 to 3.5 Litre/hour (0.13 to 0.92 Gallon/hour) and maximum output pressure 1 atm (14 psi)
Manual control for pump priming (defined in setup)

pH Alarms

High & Low with enable or disable option




Triggered after 5 sec. if the controller records a set of consecutive readings over or under threshold values




Level with enable or disable option




Overtime protection (1 to 180 min. or Off)

Controller Alarm System

Intuitive alarm system, using red, yellow and green colour coded backlight




User-selectable, alarm setup options

Alarm Relay Output



Activated by pH-selectable alarm conditions

Probe Input

Quick connect DIN connector



Digital Input

External switches can be attached to hold the control due to external events (low reagent level, recirculation pump doesn't work)



Power Supply
100 - 240 Vac, 50/60 Hz
Power Consumption
15 VA
Environment
0-50 ºC (32-122 ºF), max. 95% RH non-condensing
Dimensions
90 x 142 x 80 mm (3.5 x 5.6 x 1.8")
Weight
908 g (36 oz)
Casing
Wall mounted, built-in pump, IP65 rated
HI-10063 pH & temperature probe
Range
0 to 12 pH
Reference
Double junction
Junction
Cloth
Temperature sensor
Yes
Temperature range
-5 to 70˚C (23 to 158 °F)
AmpHel®
Yes
Matching pin
Yes
Body
PVDF (white)
Top thread
3/4" NPT
In-line mounting thread
1/2" NPT
Cable length
2 m
Connector
Quick connect DIN connector
Maximum pressure @25 °C
3 bar (43.5 psi)
Ordering information
 HI-981412-00
supplied with HI-981412 controller, HI-10063 pH/temperature probe, 4.01 pH buffer solution, 20 mL (3), 7.01 pH buffer solution, 20 mL (3), power connection cable, instruction manual and quality certificates for instrument and probe.
 

 

HI-981412-10 (with in-line mounting kit)
supplied with HI-981412 controller, HI-10063 pH/temperature probe, controller aspiration filter, controller injector, 1/2" thread, saddle for Ø 50 mm pipe (2), PVC aspiration tubing (flexible) (5 m), PE rigid dispensing tubing (5 m), 4.01 pH buffer solution, 20 mL (3), 7.01 pH buffer solution, 20 mL (3), power connection cable, instruction manual and quality certificates for instrument and probe.
 HI-981412-20 (+ flow-cell mounting kit)
supplied with HI-981412 controller, HI-10063 pH/temperature probe, flow cell for HI-981412, mounting panel assembly for HI-981412, controller aspiration filter, controller injector, 1/2" thread, saddle for Ø 50 mm pipe (3), PVC aspiration tubing (flexible) (5 m), PE rigid dispensing tubing (15 m), barbed tubing adapter 1/2" - 6 mm with racord (2), valves (2), 4.01 pH buffer solution, 20 mL (3), 7.01 pH buffer solution, 20 mL (3), power connection cable, instruction manual and quality certificates for instrument and probe.
Return/Exchange Policy
YourGrowDepot.com allows returns on products that are in new condition and are returned in the original packaging within 30 days of purchase. "New condition" means that the product is in the same condition as it was received in. All returns must be called in or emailed in advance. Please call 1-888-854-GROW or email Help@YourGrowDepot.com for a Return Merchandise Authorization number (RMA) before shipping the product(s) back to us. Return shipping and insurance charges are the responsibility of the customer. Any merchandise returned without a RMA or any merchandise returned freight collect is subject to being refused.
Order Cancelations
When a new order is placed Your Grow Depot immediately expends energy, time, and care toward the completion of the ordered product(s). Orders canceled after shipping from Your Grow Depot's facilities are subject to a 20% restocking fee, which covers the incurred costs associated with managing returns.
Returns
Due to the nature of some products we are unable to accept returns for them.

All returns must be called in or emailed in advance and given a Return Authorization Number (RMA #). Only items originally purchased within 30 Days from the date of delivery will be considered for return.

A Return Authorization Number (RMA #) is required before any replacement claim will be accepted.

Keep the Return Tracking Number (RMA#) from the package you are returning to ensure that the package is returned to the warehouse.

Please DO NOT throw away the original packaging your order came in. All returned merchandise must be in its original carton or packaging to be eligable for a refund.

The item must be shipped back with care as not to be received damaged.

Enclose a copy of the original invoice.

All products must be returned in new resaleable condition, in the original boxes to ensure full credit.

Products damaged by neglect or abuse will not be covered by warranty and may not be returned.

Returns are not accepted on products that have been altered.

For a full system return, we will create the bill of lading and make the shipping arrangements for you. We will then issue the credit minus the cost of shipping both ways once we have received the system in new resaleable condition.

You can expect a refund in the same form of payment originally used for purchase usually within 5-10 business days of Your Grow Depot


receiving your returned product. Delays may be experienced in the case of incomplete returns.

Missing accessories will result in a reduced credit amount by the actual replacement cost of those items.

The Shipping, Handling and Insurance Fees paid by the buyer are NOT included in the return credit issued.

Return shipping and insurance charges are the responsibility of the customer.

All returned merchandise is subject to a 20% restocking fee, this includes the processing fee.

Clearance items are FINAL SALE ITEMS, no refunds allowed.
*ALL RETURNS ARE SUBJECT TO A 20% RE-STOCKING FEE
Free Shipping:
Order totals of $200 or more and up to 75 lbs are shipped for free in the Continental United States. Some exclusions apply. Products excluded from Free Shipping will be identified on the individual product page. If your order does not qualify for free shipping the shipping fee is based on your order's weight, package dimensions, delivery destination, and shipping method. We do not charge handling fees or pad our calculated shipping rates.
If you are located outside of the Continental United States you will be charged shipping. If you are located outside the United States you will be responsible for shipping and any import fees. Please contact us with any questions prior to ordering if you are outside the Continental US.
Your Grow Depot reserves the right to notify you of any additional shipping charges necessary to deliver your order. We do our best to ensure that shipping is accurately calculated in your shopping cart at the time of purchase, however, at times, it may not be possible to do so accurately (e.g. rural delivery locations, shipments requiring multiple pallets, living on an island, etc.). Should this occur, you will be notified of any additional charges necessary to deliver your order. If you are notified of any additional charges, you will have the right to modify or cancel your order for a full refund.
Order Confirmation:
As soon as you place your order, you will receive an order confirmation email to the email address provided. This means that we have received your order in our system and have authorized the charges to your credit card.
We try our best to get orders processed on the day it is placed if the order is placed before 11 AM MST Monday through Friday. Most in-stock items are shipped within 24-48 business hours of the order being placed with the exception of select custom and built-to-order products. Orders placed over the weekend are received and processed as soon as possible on Monday morning.
Each order placed on Your Grow Depot goes through our processing department before it can be shipped. If six or more business days have passed since you submitted payment and you have not received an email with tracking information, please log in to your account to track your order(s) and/or contact us at 888-854-GROW or send a message to Help@YourGrowDepot.com.
First, please check that your email address was entered correctly. If it's correct, please check your spam folder to make sure the order confirmation and tracking information weren't filtered out of your main inbox by your email settings.
Order Shipment/Tracking:
Once we authorize the charges to your credit card, it will ship within five business days from the date of your order. We will send you tracking information within 24 hours of your order leaving the warehouse to the email address you provided when checking out. Your order is shipped via FedEx, UPS, or USPS. If you do not receive tracking information from us within six business days of your order, feel free to follow up with us at Help@YourGrowDepot.com or 888-854-GROW.
*NOTE: SUPERCLOSET COMPLETE SYSTEMS ONLY (Cabinets, SuperRooms) – Complete Systems are built to order and have an estimated production time of 2-3 Weeks. Shipping time is estimated at 3-5 business days. Please allow a maximum of 3-4 weeks for a complete system to reach its final destination. These are long estimates to account for unforeseen production delays. It is typical to see complete systems well before these estimates.
Shipping Methods and Transit Times:
Your Grow Depot strives for excellent fulfillment rates. Shipping from more than 20 warehouses cuts down on transit time to you, which means you get the products you need FAST. Orders always ship from the closest warehouse with stock available to the delivery address. Orders may be fulfilled directly by the manufacturer or distributor in an effort to reduce the shipping time.
If you order more than one item, we'll make every effort to send available items together. Depending on availability, an order may ship from several locations. If we decide to break your order into multiple packages, you will NOT incur any additional freight/shipping charges. Tracking information will be sent to the email address provided on the order for each portion of the shipment.
When selecting shipping options, please be advised that these options are promised from the time of shipping, not from the time the order was submitted. Please understand that it takes time to process the payment, pick your order from the warehouse, securely pack it in a box, label it, and get it ready for shipping.
*Some locations in Alaska and Hawaii require additional transit time.
Full Replacement Value Coverage:
Full replacement value coverage does not apply to the majority of products and shipping available.
In the event that you have ordered expensive machinery and would like it insured for the full replacement value during shipping it is an additional charge.
Upon ordering the items that qualify for full replacement value coverage we will obtain a quote for the difference between regular shipping and the cost for adding full replacement value coverage. Once we receive the shipping quote we will contact you and offer you the option to add full replacement value coverage to your shipment. If you elect to accept this coverage we will collect payment over the phone or we can email you an invoice. We will not provide full replacement value coverage for any shipment where the added coverage has not be paid in full at time of processing.
Curbside Delivery (Freight/LTL Shipping):
This shipping method is reserved for large, heavy, or oversized items like, flood trays, large tents, oversized reflectors, commercial air conditioners/dehumidifiers, etc. These select items are palletized, loaded onto a large truck for shipment and delivered by scheduled appointment with a lift-gate for to-the-curb service. All items must be inspected for damage incurred in transit and signed for prior to the driver leaving.
Shipment time is generally 3-7 business days. Please understand that some areas are not serviced daily.
Scheduling Delivery Appointments:
If you are not available by phone or email to schedule your delivery appointment within a reasonable amount of time, the shipment will be considered refused and you are responsible for full freight charges and applicable fees going both ways with a minimum 20% restocking fee.
Refused Shipments:
You will be responsible for full freight charges and applicable fees going both ways and a minimum 20% restocking fee for shipments that are refused for any reason other than the shipment being damaged in transit or if the shipping error was made by Your Grow Depot.
Shipping to an Alternate Address:
Orders with different billing and shipping addresses may require longer processing times due to additional verification procedures. The added verification and processing time is in an effort to protect our customers and Your Grow Depot from online fraud in a card absent environment.
Providing inaccurate or false information may result in additional delays as we attempt to verify the provided information.
Discreet Order Packaging:
We understand the importance of privacy for many of our customers. Most orders placed on YourGrowDepot.com are shipped in plain brown boxes.
All palletized (LTL/Freight) shipments are wrapped for your privacy in an effort to conceal the contents of the goods shipped.
Shipping Changes Fees (Address Intercept):
If a request to change the shipping address is made after the package ships, it will be subject to an Address Intercept Fee imposed by the shipping carrier. The amount of the fee varies according to the shipping carrier and the destination of the package. Please be aware that not all shipping carriers will accept address intercept changes. This policy is in accordance with the security measures and agreements made with our third party shipping companies.
If incorrect shipping information is given, it may result in your order being delayed to the desired destination.
Damaged Shipments:
Please inspect all shipments carefully for damage or missing items prior to signing for them (if required). The freight carrier often denies claims after the shipment has been signed for. In the unforeseen event your shipment arrives damaged, please report any damages or missing items to the delivery driver, note any issues on the delivery receipt, and contact Your Grow Depot immediately.
If you sign your name on the freight bill without noting any damages, you are stating that you have received your shipment/order in acceptable condition. Once signed for, there will be no reimbursement of freight charges, order costs or any other charges incurred by you from Your Grow Depot.
Back-Orders/Out of Stock Items:
If an item you ordered is out of stock we will attempt to contact you. We will let you know when the item is expected to be available again and will give you the option of waiting for the item to ship or having the order removed from your order for a refund.
To cancel an out of stock item contact customer service at 888-854-GROW or send an email to Help@YourGrowDepot.com and we can further assist you.
Signature Required:
Due to the valuable contents of some shipments, Your Grow Depot may require a signature upon delivery. Such guidelines will not be overruled upon the customer's request. Please understand that this is a security measure taken by our company to guarantee excellent service and to ensure the safe delivery of each package to the correct recipient. Many of our third-party shipping carriers require signatures upon delivery to protect against fraud and theft. Customers may request a signature upon delivery by calling Your Grow Depot Customer Service at 888-854-GROW.
Your Order Shows Delivered But You Don't Have It:
If your tracking number shows delivered on the shipping company's website but you don't have it, please do the following:
Check the area around your home for the package and ask anyone it may have been left with.

If the package is not found please contact us at 888-854-GROW as soon as possible.
Occasionally there may be a mix-up in the warehouse and you may have received an incorrect tracking number. If the tracking number is correct, we will contact the shipper to report a missing package.
Your Grow Depot can not be held responsible for packages stolen from the delivery address so please be sure to ship to a secure location!
Shipping Disclaimers:
There are rare and unforeseen events out of our control that may effect shipping times. Severe weather conditions, catastrophic events, or failures by our delivery partners can cause unexpected delays.
Most carriers will not ship to PO Boxes. If you enter a PO Box for your shipping address, we may have to contact you for an alternate delivery address.
Hazardous Materials & State Restrictions:
EPA-regulated items such as repellents or insecticides may be restricted for sale in some states. You will be notified by one of our team members if an item cannot be shipped to you due to state regulations.
We know that when you shop online it can be hard to know if you're getting the best deal. That's why we work very hard to ensure that we offer the absolute best prices online...we want your experience with us to be 100% stress-free.
There is no need to worry about finding a better deal online...you can relax.
Why?
We offer this price match guarantee because we want you to be able to shop with confidence and not have worry about if you're getting the absolute best deal online. With us, you always are.
Our promise to you is simple. If you find another store online that is offering a better price any time within six months of making your purchase, just let us know and we will refund the difference.
To request your partial refund simply e-mail us at Help@YourGrowDepot.com with a link to the same product on our website or on our competitors' website within six months from the date of your order and we will process the credit accordingly.
Our 100% Price Guarantee has some limitations:
You must purchase the item from our website before requesting your Price Match Guarantee.

Promotions such as rebates and buy one, get one free offers are not eligible.

Products that are on sale are not eligible.

The item must be in stock on the competitors website.

The competitor must be an online store, they may not have a retail location.

The website can not be a discounter or auction website (ie; eBay, Overstock, Amazon, etc..).
The competitor must be an Authorized Retailer of the product in question.
The Price Match Guarantee includes the item price, it excludes sales tax.

The following Brands are excluded from the Price Match Guarantee:

Across International
Dealzer
EZ Trim
Hydro Crunch
HydroFarm
CenturionPro - Parts
Zelda Horticulture
SolisTek
VectorFog